Best Wishes to A Singer: Wishing someone good luck means you're wishing them the best of everything in life; we want them to receive what they truly deserve and we wish for their success in life, family, and career. It's a motivational technique that shines a light on all things good and reminds us to be grateful for everything that we have.
There is a singer who is an important person to you, and he is going to attend an important event in his life. You want to wish him the best of luck. There are many ways in which we can show our best wishes to a singer, but what is the most important of all? The wish itself is the most important one.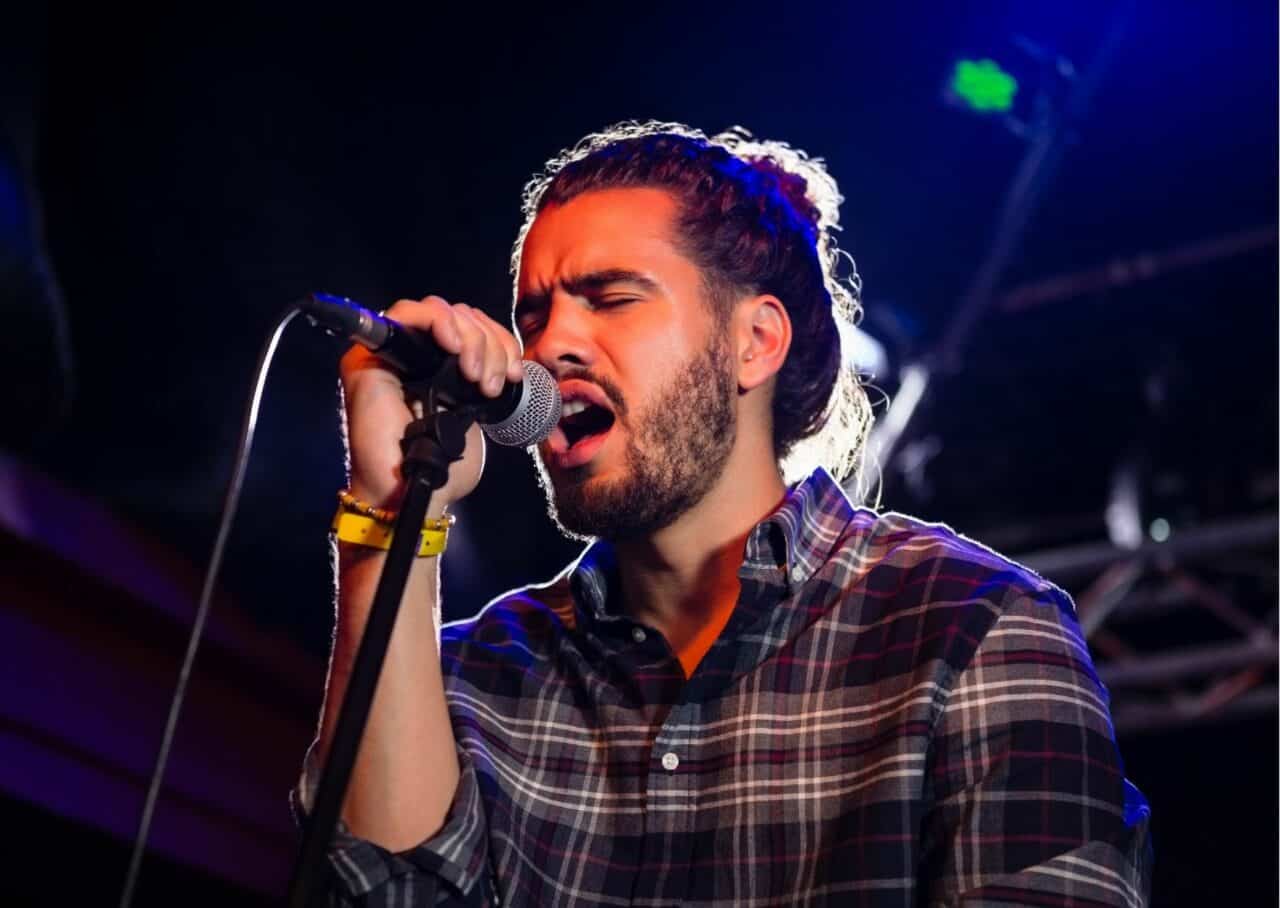 We hope the wishes we collected below will provide a few ideas to help guide you towards what is your personal best wish.
Best Wishes to a New Singer
Let the world know how great you are as a singer, you are the best.
You are welcome in the performing arts world, this is your time to shine.
We hope you will receive more awards and become a superstar in the near future.
We wish for you to be given more opportunities and you will get there with your hard-working and amazing voice.
You need to be treated like a star or we'll end up having no one that we look up to anymore.
The world is waiting for your first performance, don't disappoint them.
We wish you all the best in your future endeavors, your family is proud of you. You will become a great singer for sure.
We are all rooting for you, good luck with your performance tonight.
Your hard work will bring you to where you always wanted to be, one day at a time.
We are all here to support you in anything that you want to do, keep spreading your talent around the world.
We always root for you, stop being afraid to showcase your talents.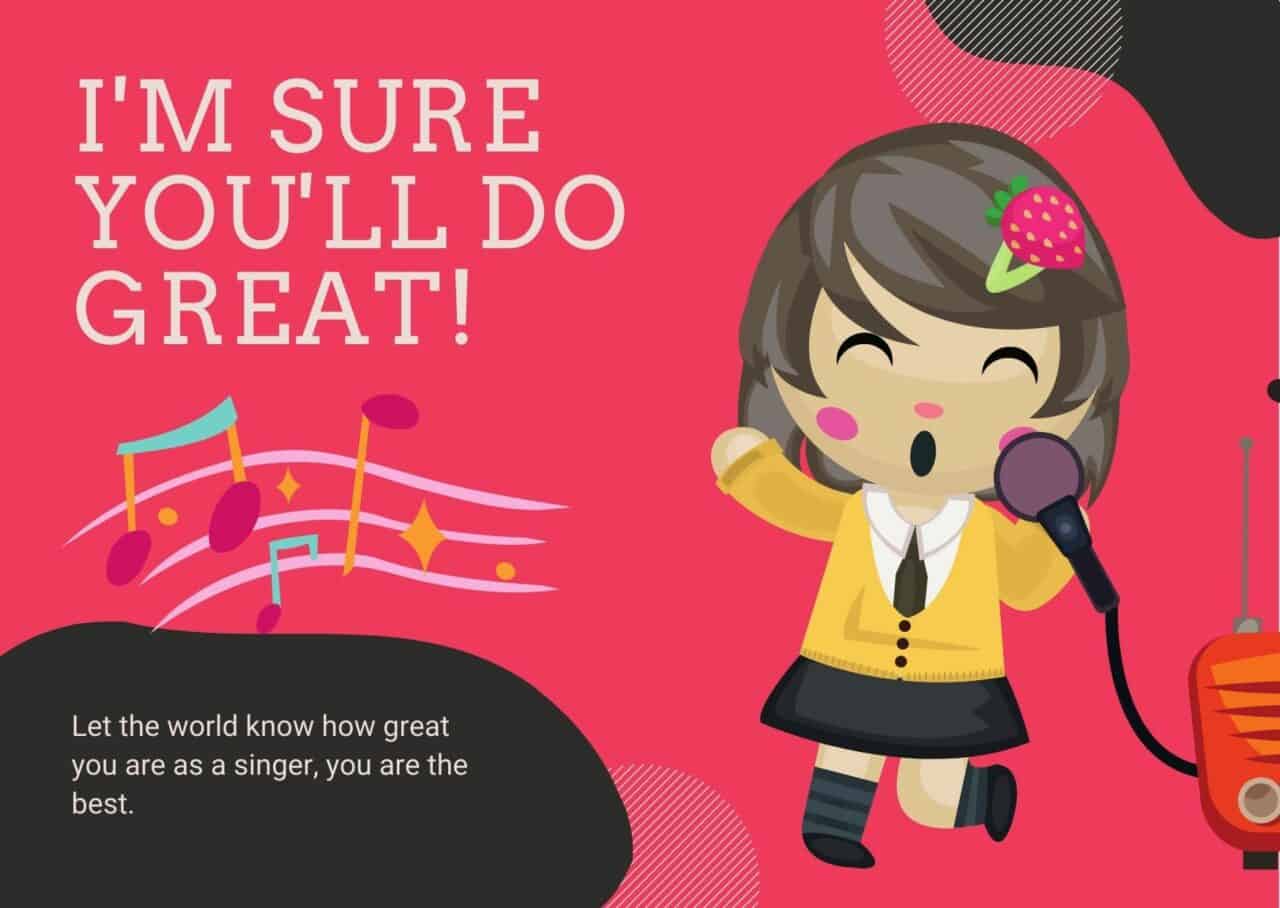 Keep up the good work, you will definitely become a superstar someday.
I know you're excited to see your family and friends and also relieved to know that they're all in the audience, let them know how wonderful your voice is! I look forward to hearing the great success of the song and your astounding performance.
I saw this coming, I know how hard you have been working. Also, I expect you to do wonderful. So go ahead, it is your showtime. Shine them!
Best wishes to the show tonight. I know that you have been working hard on the songs. I just hope that you will have a lot of fun and that you will be happy with how it all goes.
I know you're nervous about the show, but this is what you have been working for ever since you were a young child. This is your big night to shine.
Best Wishes to An Upcoming Singer
All your hard work will pay off one day, it's just a matter of time.
The best is yet to come for you, don't get disappointed if things get rough along the way.
You are able to reach great heights if you continue to work hard and sing more often. Good luck!
Good luck with your test, I know you've been studying and practicing nonstop. You can do it!
Don't get discouraged by your low score, everyone has a bad day, stay positive and keep on practicing.
Your performance will be awesome.
You have the skills and the talent to do very well in this industry, we're all behind you.
We're just sorry we can't be there to experience your first performance as a singer, but we will always be with you no matter what.
Just remember to keep your head high, breathe in, and hit your notes.
Our support goes right along with your talent, you are just good at what you do!
The best of luck to you! You will reach all of the goals that you have set for yourself.
We are with you every step of the way until you reach your dreams. Good luck! You will make it.
Always remember to be proud of who you are with everything that you have accomplished so far.
We're all cheering for you on the road to success. Good luck!
Keep up the good work, you will definitely become a superstar one day.
The world is your oyster as long as you keep trying and never give up!
We are so proud of the fact that there are those out there that have worked hard to achieve their dreams no matter what.
Best wishes to you on the wonderful occasion of your show. I hope you'll feel prepared and confident to perform your best.
I wish you the best of luck on your test. I know you're nervous about it, you don't need to, you are capable of doing well. Surprise the ref with your talented singing.
I hope your big show goes just as you imagine. Good luck with your showcase. You're definitely going to do well. You're an amazing singer and performer and you deserve the biggest stage and the biggest applause!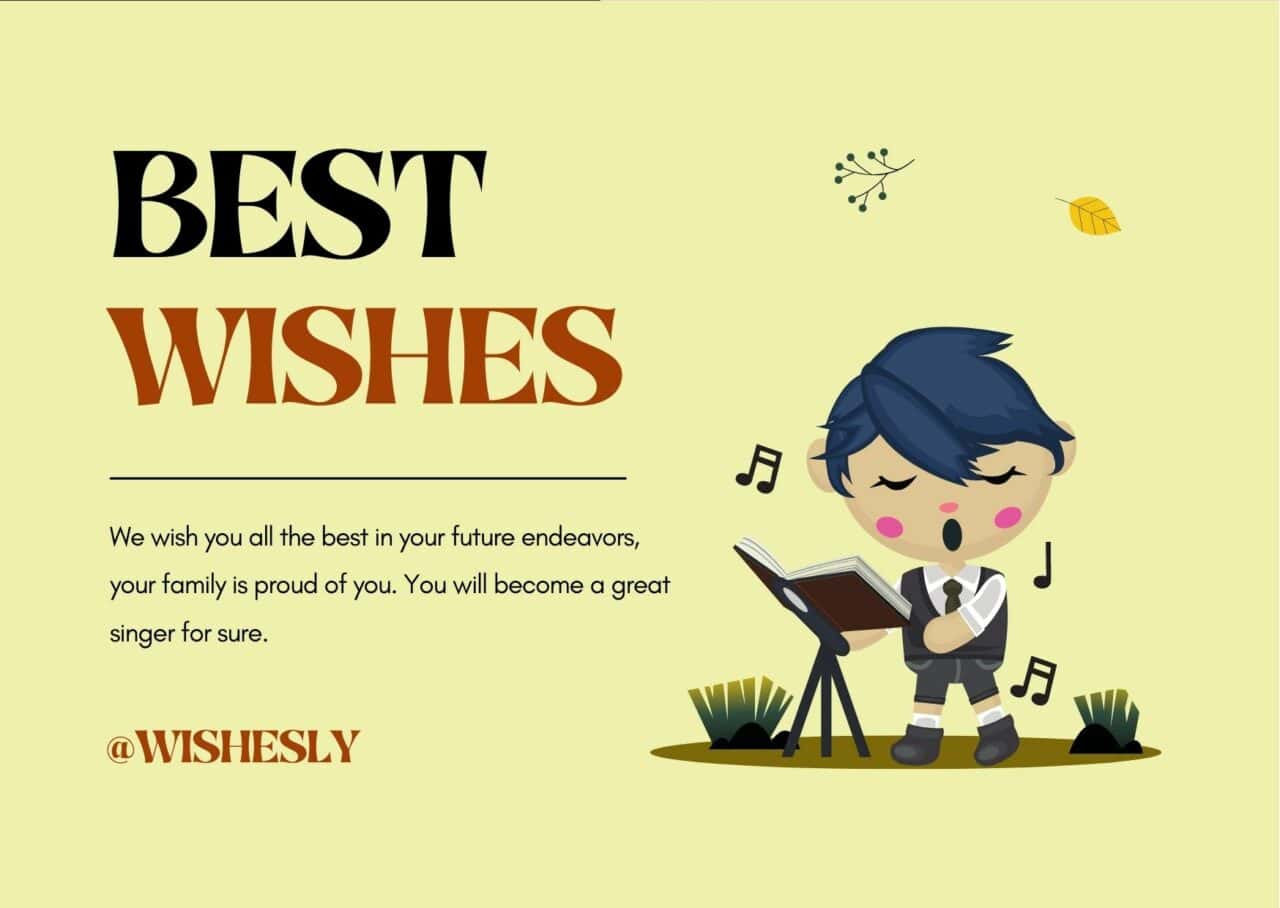 Please try and remember to not be nervous and try to relax, I know it's a big deal for you, you will be fine, you'll do great, and I know you'll feel great when it's over too. Show yourself!
Best wishes to the show tonight. I know that you have been working hard on the songs. I just hope that you will have a lot of fun and that you will be happy with how it all goes.
Wishing you are prepared to meet the ref. I know you are nervous but I also know that you are more than ready for this. You are ready to perform well or give your best, good luck, you have one of the best voices ever! Trust yourself, you rock!
This is a great opportunity for you to make a name for yourself, don't miss it.
Best Wishes to a Professional Singer
You are an inspiration to us because you are never afraid to share your talent. Thank you!
We can all see how hard you work to continue achieving more in your career.
The world owes its gratitude to singers like you, without you there will be no music in this world.
It's always great to see someone that has worked hard to get where they are right now.
You are definitely one of the most talented singers in the industry right now.
Good luck with your concert, you have been preparing it for such a long time, the tickets sell like crazy. It will definitely be a big success!
You have been working hard on getting the right songs and the best performances. I'm sure this will be a success.
You will get your moment in the spotlight. We know you will rock the stage and make it a memorable one.