Wishes for confirmation: Confirmation day is a special day for all Catholics. The sacrament of Confirmation, sometimes called Chrismation, fills the baptized person with the Holy Spirit and strengthens him or her with a special anointing for living a Christian life and bearing witness to Christ.
Blessing wishes for the people you loved on his or her confirmation day is a very special gift that expresses your love and support. You may send a blessing wish to the person who receives confirmation right after Mass. You may also want to email your blessing wishes to your godson or goddaughter. But you don't know what to say to them.
We have collected some sweet and short blessing wishes for confirmation day for all your need. These short Confirmation day wishes are not blessings in the ordinary sense of the word as a prayer for a particular holy intention; rather, they are memorable blessings that you can dedicate to the person who received the sacrament of confirmation.
Simple Confirmation Wishes
On your confirmation day, we pledge to Christ that we will live as His disciples.
May you do your best, never give up, and always be in God's presence.
Dear, congratulations! May the Holy Spirit always guide your steps.
Dear Name, May the Holy Spirit lives within you.
May the power of the Holy Spirit fill you with joy and peace.
Dear Name, we pray that God will give you His strength and power.
God's grace is with you always. Do not be afraid.
May the power of the Holy Spirit direct your steps as you grow in faith.
May you be filled with the Holy Spirit so that you will always be able to resist the enemy.
May God be with you and make His divine power shine forth through you.
May the Lord bless you and keep watch over your life.
Because you have obeyed the truth, God has graced you with His peace.
You will receive a special gift of the Holy Spirit that will be with you forever. You will have the peace and joy of knowing you are saved. May God continue to bless you.
You are special and unique, loved by God, worthy of His blessing and protection from all harm. Jesus loves you, always watch Him over your life.
Congratulations! The Holy Spirit has come to live within you by baptism. He is God's gift of peace and assurance in an unbelieving world.
Confirmation is a time of commitment. It marks the steps taken by an individual's spiritual maturity. It is a day of commitment to Christ in baptism and in all you do after.
Confirmation seals the covenant. It joins you to Christ, gives you strength, and assures the salvation of your immortal soul.
Confirmation Wishes For Girls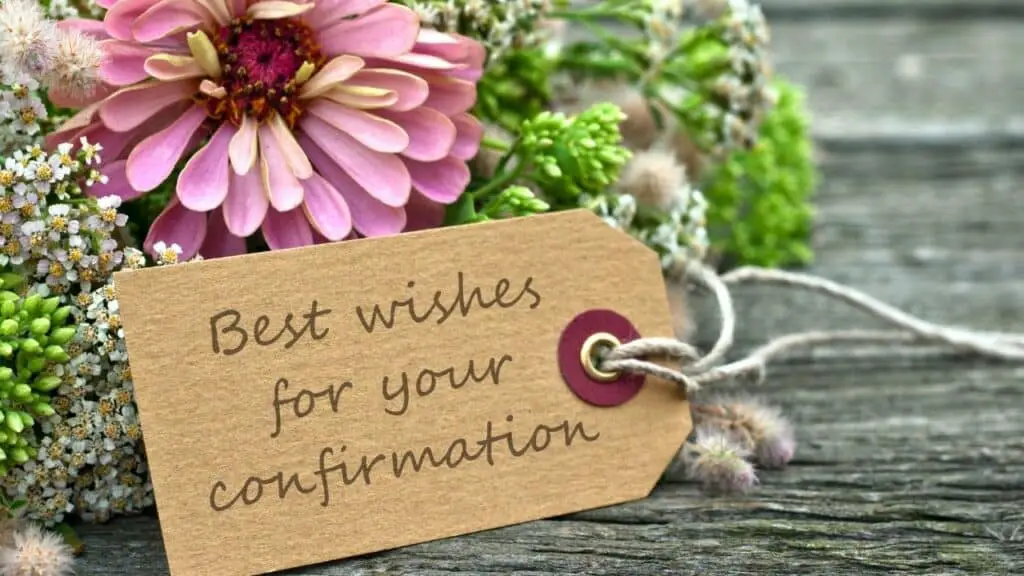 On your confirmation day, my girl, we pray for healing for your soul as you are sealed to God through the Holy Spirit.
Congratulations on being confirmed. You are joining the army of Christians who spread the good news, and show love, to you, my little girl, and all people.
You are such a beautiful girl. We all wish you the best on your confirmation day as Jesus gives you His blessings.
On this very special day, our family wishes to congratulate our most beautiful girl for joining us on this journey of faith and love.
Dear (daughter's name), we celebrate your confirmation. As a child of God, you have been given many gifts from Him; use them always to do His will.
My beautiful girl, we all celebrate your confirmation. May you always walk in peace with God.
The Lord blesses you more and more as time goes on. Stay close to him who guides your path.
May the Lord grant you patience, hope, and perseverance for your journey of faith.
May God bless you and keep you; God's blessing is like the sweetest wine. It fills the heart with joy to know that He is with us. "
The Lord blesses you, my daughter, and I pray that you will always be a blessing to others."
By God's grace, you have been given strength to be His witness, peace in your heart, and wisdom beyond your years.
Congratulations, my beautiful girl. May you always know the peace and joy of God's blessing.
Confirmation Wishes For Boys
Congratulations! May God give you strength to walk with Christ, as the Holy Spirit lives in you.
Dear son, we pray that God will give you His strength and power."
Dear NAME, we celebrate your confirmation. On this day, you made a commitment to Christ and now it's time to live by faith.
Confirmation is a second baptism through which we Christians are reborn into a new life of faith.
God has given you His Holy Spirit – the one who guides and protects you, never leaves you like parents do, and is always ready to forgive your sins.
May the Lord be with you on your confirmation day.
We confirm you in the faith and pray that the Holy Spirit will guide you, protect you and bless you
You are blessed, my son because God has chosen you to be His own child. Now let the Holy Spirit live in you.
You may be baptized again in water; but I baptize you in the Holy Spirit, in whom lives the eternal love of God who sent his Son for our salvation.
It is not the water that makes you clean my son, but the word that comes from above – the cleansing water of the word of god.
You have been given the grace to live a life devoted to virtue.
May you always recognize and follow the guidance of the Holy Spirit, my son.
May the Lord fill your soul with joy and your life with happiness. God bless you, my son.
May you always be guided by the Holy Spirit. May the Lord give you a spirit of wisdom and eyes of understanding."
God bless you, my son. My prayer is that you will live with joy as you grow in faith. May you always be grateful for God's blessings.
The Holy Spirit will give you strength to walk in the way of Christ. You will be guided and protected by Him.
Blessed are you when people speak well of you, do not become angry even at small things, because great is your reward in heaven.
Thanks to the Lord for being faithful to him on this special day. May he bless you with joy and peace as you continue walking on the path of Christ.
May the God of hope fill you with all joy and peace by believing because of what you have seen and heard.
Dear Daughter's name, may the presence of Christ fill your heart and guide your steps. May you always live in God's peace.
Dear Sons name, may you always have a focus on God that will guide you along the right path. May you be filled with His peace.
May the entire Christian community in which you live be a source of inspiration and spiritual strength for your journey through life.
My dear son, the Holy Spirit will give you the strength to respond to God's call as you continue your journey through life.
God gives His people gifts for Christian living. He gives wisdom, knowledge, understanding, counsel, fortitude, godliness, self-control, and love. Let your conduct be worthy of such a gift, my son.
Congratulations! From all of us, may God's blessings rest upon you and surround your life with love and laughter.
Today you have been confirmed. It is a day to thank God for your life and the blessings that have come to you. May God bless you with everything that he has.